LittleMissMatched Takes New York City by Storm This Holiday Season
November 17, 2008 by admin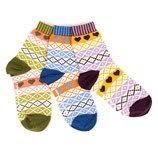 NEW YORK, Nov. 12 / — LittleMissMatched, the ground-breaking company that began with the idea of selling socks in odd numbers that don't match, is revolutionizing holiday shopping across Manhattan this holiday season.
The lifestyle company will be opening two pop-up shops in New York City and will also host booths at several coveted gift fairs including Grand Central Terminal, Union Square and Columbus Circle.
"After four years, the company has grown its product offerings and consumer awareness exponentially, making it the perfect time to begin conceptualizing our first flagship store. These two pop up stores will serve as the best research tool available to decipher our customers' buying habits, what they are purchasing and where they are shopping so that we can make the best possible choices about our permanent retail location," explains Jonah Staw, CEO and co-founder of LittleMissMatched.
The first temporary boutique opened its doors on the corner of Spring Street and West Broadway in the trendsetting area of SoHo. The second pop up shop, at Columbus Avenue and 75th Street, is a magnet for LittleMissMatched's core customer – the cultural creatives and their kids. Both stores offer the entire line of LittleMissMatched fun accessories, room decor and apparel ranging from eco-friendly winterwear to their revolutionary bedding, which makes up to 192 combinations with just one bed in a bag.
The LittleMissMatched booths at the city's renowned holiday fairs will also feature the majority of the brand's products including best selling gift items such as sock change purses, shoelaces, pajamas and, of course, their signature 3-packs of socks. At a time when consumers' budgets are tighter than ever, LittleMissMatched offers numerous lower ticket items that still deliver the warm and fuzzy feel of luxurious gifts while triggering a smile.
In addition to these retail locations, Manhattan consumers may also catch the LittleMissMatched ice cream carts cruising through the city during these holiday months. The pink and orange branded carts will be handing out promotional postcards and general LittleMissMatched information in order to generate additional awareness on the company and drive consumers to the retail spots.
The LittleMissMatched stores are located at 160 Spring Street and 315 Columbus Avenue in New York City from now until December 31, 2008. The various gift fair booths will be opening their doors beginning on November 15th through the holiday season. Online shoppers can purchase the collection at www.LittleMissMatched.com.