DETROIT, July 14 / — This October 1 & 2, 2009, the Motor City will transform into Fashion City, as Fashion In Detroit – a two-day fashion show extravaganza to rival other Fashion Weeks around the U.S. – makes its debut in a tented, high-end setting at the Detroit Zoo, in Royal Oak, Michigan.
Created by Project Runway's Joe Faris, of Birmingham, the Fashion In Detroit executive committee is made up of Detroit's heaviest hitters in fashion, beauty and event management: Leslie Ann Pilling, nationally renowned designer and president of Presence II Productions and Leslie Ann Pilling Design, Rino, owner of FIGO salon, Karen Buscemi, editor of StyleLine magazine, Lians, international fashion photographer and co-owner of LM Studios, and K'Kio Hardin, international designer/art director. Read more
SEAL BEACH, Calif., July 9 / — Sinful Clothing, the signature label for women with a wicked eye for fashion, will debut their Cruise '09 and early spring 2010 Swim Wear collections at The Miami Beach Swim Show, the largest swim show in the world, to be held at the Miami Beach Convention Center, July 18th through July 21st.
At the show, Sinful will be presenting the latest from their line of swim apparel, as well as introducing their new collection of cover-ups and related sportswear. Sinful swimsuits will be available in ten new prints and solids, featuring three styles in tops, including triangle, bandeau, and halter, paired with bikini bottoms and boy shorts. The collection also features sexy one pieces and boardshorts, as well as pocketed tank, mini and fringe dresses. Read more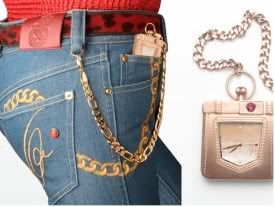 CLEARWATER, Fla., July 9 / — In 1976, still emboldened by her successful escape from oppressive East Germany the year before, designer and artist Ulli Kampelmann concocted a wild scheme to sneak back in to spend Christmas with her mom and two brothers.
At dawn on Christmas morning that year more than three decades ago, Ulli and her boyfriend Klaus approached Checkpoint Charlie, the border between East and West in Berlin. Not only were they risking the wrath of the border guards if the two pair of smuggled Levi's were discovered in the bag of Christmas gifts intended for Ulli's brothers, the couple were truly gambling with their lives. As an escapee, Ulli was a fugitive from the Stasi, the Gestapo-like secret police, and Klaus, by aiding and abetting this "enemy of the state," would have been immediately imprisoned had his role been revealed. Read more
NEW YORK, July 9 /PRNewswire/ — Direct Sales Fashion Line Targets Busy, Well-Heeled Women Seeking Highly Personalized Service. Women rushing from the office to the beach and back again this summer will cherish knowing that – beginning today – they can make a one hour appointment with Per Se to get their fall wardrobe in order well in advance of the season! Per Se, a contemporary, upscale clothing line designed for busy, stylish women, has just unveiled its Fall 2009 collection in showrooms and trunk shows across the U.S. The new collection will be shown by appointment only, from July 16th through September 17th, and can be previewed on the runway at http://www.persecollection.com/fall2009/runway
"This truly is my favorite Per Se collection, to date," said Bill Rondina, Founder, CEO and Chairman of The Connaught Group, the creators of Per Se. "The must-haves this season include glamorous capes, fifties-inspired dresses, and structured garments that are showcasing exposed zippers to embellish and accentuate the natural lines of a woman's body. Women will want to stock up on scads of skinny leggings, sweater dresses, double knits and loads of accessories. To kick it up a notch, we also recommend investing in a modern art-inspired piece this season. By wearing something Mondrian-inspired, featuring architecturally-shaped details, our clients are sure to look stylish, unique and ready." Read more
CLEVELAND, July 9 / — Swim trunks designed for women offers a flattering, comfortable fit for all sizes, shapes and ages. A new concept in women's swimwear has emerged for the 2009 summer season. girltrunks combine the functionality and comfort of a traditional swim trunk, with a stylish flair and flattering fit designed specifically for women of all shapes, sizes and ages. Paired with well-fitting tops in halter and tank styles, girltrunks offers a versatility not often found in traditional women's swimwear. Taking women from the pool, the beach or the gym to lunch with a friend, running errands or anywhere women want to be stylish and comfortable in swimwear.
This innovative concept in women's swimwear was developed by founder Debbie Kuhn after a trip to Montana where she knew she needed swimwear, but wasn't pleased with any available options. By pairing men's swim trunks with a woman's tankini top, the concept for girltrunks was born. After years of research and tailoring girltrunks to achieve the perfect style and fit for a women's body, girltrunks hit the virtual market in March 2009 (http://www.mygirltrunks.com). Read more
First store expected to open in 2010 in Bangkok
SAN FRANCISCO – July 8, 2009 – Demonstrating a commitment to strengthening its international presence, Gap Inc. (NYSE: GPS) today announced an agreement with Armin Systems Limited to bring Gap stores to Thailand. Under the agreement with Armin, the first Gap stores in Thailand are expected to open in spring 2010, featuring clothing for adults, kids and babies.
"We're pleased to expand in Southeast Asia with such a well-respected partner," said Ron Young, senior vice president of international strategic alliances for Gap Inc. "Armin Systems Limited is an experienced retailer in Thailand with a deep understanding of the marketplace and we're excited to join with them to offer the Gap brand to our customers in Thailand." Read more
CITY OF INDUSTRY, Calif., July 7 / — A new collection of semi-precious jewelry is providing a precious commodity: Food for hungry people hurt by the economy. Donating by design is a continuing tradition at Brighton Collectibles, where founder and owner Jerry Kohl and his team of designers have created jewelry collections which have raised over $3 million for breast cancer charities and over $1 million to fight women's heart disease. Now, they are focusing their creative efforts on a different health concern — the growing number of people going hungry due to the economy.
With the American Heroes promotion July 11 through August 10, customers who purchase the limited-edition semi-precious jewelry can join with Brighton in helping feed struggling Americans. Brighton will donate $7.50 per necklace sold, $5.00 per bracelet sold and $2.50 per pair of earrings sold to Feed Our Friends charity. Many specialty retailers including Brighton Collectibles stores will match the manufacturer's donations. Read more
LEXINGTON, Mass., July 7 / — Sperry Invented Boat Shoe in 1930s, New Technology Continues Performance Innovation Spirit of Brand. Sperry Top-Sider(R), the global nautical lifestyle brand dedicated to people with a "Passion for the Sea," announced today the launch of the ASV Solution, a patent-pending Anti Shock & Vibration footwear technology specifically designed to reduce — by up to 40 percent — the stress to the body that boaters and anglers experience from wave pounding and engine vibration when power boating.
The new ASV Solution shoes, available now at marine and other specialty retailers for both men ($140 a pair) and women ($130 a pair), specifically address the significant challenge facing boaters and anglers — stress to the feet, legs and back caused by constant wave pounding and engine vibration. To date, many power boaters and anglers have been wearing athletic/running shoes, which actually distribute the shock and vibration energy from the engine and waves in a way that exacerbates the forces and causes more body stress. Boaters reasoned that the cushioning technology used in running and other land sports would help on the water. Read more
The Royal Thai Government's Department of Export Promotion, Ministry of Commerce, is joining forces with the fashion and leather industry to demonstrate Thailand's and ASEAN's strengths as the hub of fashion and leather industry in the upcoming Bangkok International Fashion Fair & Bangkok International Leather Fair 2009 (BIFF & BIL 2009).
Set for August 13-16, BIFF & BIL 2009 in Bangkok will showcase a full range of fashion and leather products under the theme of ASEAN Fashion Plus to make this fashion expo, which is the biggest in the region, truly a one-stop center for people in the fashion and leather industry. Read more
The Intertextile Pavilion at Shenzhen opens at the Shenzhen Convention & Exhibition Centre for three days from 9 July 2009. Over 240 exhibitors from China, Hong Kong, Japan, Korea and Switzerland have signed up to participate in this leading industry event for sourcing ladieswear apparel textiles in Southern China.
Among the confirmed ladieswear fabric suppliers are: Read more