San Francisco Jewelry Designer Launches Facebook Page to Share Custom Jewelry Creations
San Francisco, CA (Vocus/PRWEB) May 26, 2011
Founded in 1986 by brothers Khoren and Garen Ekmekjian, Ritz Jewelers is a leading San Francisco custom jewelry maker; clients fly in from all over the world for their jewelry design and creation services. The company has now launched a Facebook profile page to keep customers informed of updates to their products and services, especially their custom pieces, which are designed to have Khoren's signature look, a melding of vintage elegance with contemporary style.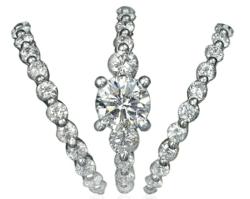 "I can tell by the look and disposition of the client how to design their jewelry, just like a courtroom sketch artist can capture the emotions of the trial they are witnessing," says Khoren, co-founder of Ritz Jewelers. "Many people know what they want, but they don't know how to describe it—so I take the time to help them."
The new Facebook profile is expected to increase exposure for the jewelry designer and help them stay in communication with their client base of more than 12,000 people. Ritz Jewelers plans to share new product launches and services such as their new online design tools and feature custom designs created for clients, including celebrities. The Facebook page will feature tips on buying jewelry, before and after images of repurposed jewelry, and fine jewelry trend alerts.
The fan page is already creating a buzz with posts, such as one telling a San Francisco engagement ring design success story: "My husband and I recreated my engagement ring with Khoren, He is amazing! My ring looks beautiful." Khoren is known to spend considerable time working with clients to determine the perfect design.
For more information about the Ritz Jewelers Facebook page or any of Ritz Jewelers' products or services, call the store at (415) 730-3268 or visit them on the web at http://www.ritzjewelers.com.
About Ritz Jewelers
For 25 years, Ritz Jewelers has been a trusted source of classic, elegant jewelry at excellent prices in San Francisco. Ritz Jewelers is known for creating flexible designs that can be translated from piece to piece so that clients can purchase or modify an individual item or create or build upon a unique collection. The store is also the premier place to purchase loose diamonds in San Francisco.