Niles, IL (PRWEB) May 27, 2011
Celebrating the rich beauty, fascinating history and lush reward of the Emerald Isle, The Bradford Exchange announces the release of the Blessings of Ireland emerald bracelet, an exclusive fine jewelry design marked by heritage and artistry. Exquisitely crafted with contemporary style and elegance, this unique Irish bracelet arrives with a custom presentation case and gift box, making it an impressive gift or addition to one's own personal jewelry wardrobe.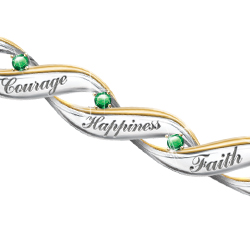 The proud heritage of Ireland and the pastoral splendor of its countryside have long inspired poets, painters, and patriots who for centuries have proclaimed it to be their one true jewel. From Cork to Donegal, from Galway to Dublin, this verdant inspiration has prompted masterpiece works of art in every discipline throughout history. Even today, the muse-like qualities of the Emerald Isle have not diminished, as evidenced by this fine example of Irish jewelry. Read more
(PRWEB) May 27, 2011
The 2011 show appealed to audiences of all ages with a mixture of contemporary music and traditional trot, the oldest form of K-pop. This year's participating artists included K-pop groups U-Kiss, 4Minute, Sistar and Secret, plus singers and performers like Jay Park, K. Will, Jeong Soo-Ra, Baek Ji-Young, G. Na, DJ Doc and the 1st Generation Jazz Band. YesStyle distributed 3,000 glow sticks and 1,200 postcard shopping coupons to concert attendees while YesStyle's sister company YesAsia.com gave away K-pop CDs. A spectacular fireworks show concluded the evening's festivities.
Organized by The Korea Times, the leading news organization in the Korean-American community, the Korean Music Festival began in 2003 as a centennial anniversary celebration of the Korean immigration to the United States. The show has since grown to become one of the biggest annual events in Southern California and has featured top-tier K-pop artists such as Girls' Generation (SNSD), BoA and Rain. Read more
Milan, Italy (PRWEB) May 27, 2011
During the hottest season of the year it's lovely basking in tiny swimming costumes in shocking, bright colours with plenty of see-through effects and rivers of sequins to shine at the water's edge: this will be the latest look from Divissima, a leading company in online shopping with its website http://www.divissima.it. All the new 2011 collection is on this web site or in the showroom in via del Carroccio 6 in Milan. Read more
LONDON, May 27, 2011 /PRNewswire/ — The Costume Institute at the Metropolitan Museum of Art has at long last opened its doors to one of its most highly anticipated exhibitions celebrating the life and career of one of fashion's most important designers. Entitled "Alexander McQueen: Savage Beauty", the exhibition has exceeded expectations and broken attendance records in its first few weeks of opening and luxury fashion retailer farfetch.com, which gives customers access to the best designer boutiques in one easy to shop website, says this shows that interest in McQueen's work, and luxury fashion in general, is increasing.
Paul Brine, spokesperson for farfetch.com, comments: "This exhibition pays homage to a truly outstanding designer who helped revolutionise the fashion world and was on the cutting edge up until his tragic, premature death in 2010. The public's unprecedented interest in the exhibition shows that our love of opulent fashion is on the rise and we can expect it to stay on an upward trend." Read more
ORLANDO, Fla., May 26, 2011 /PRNewswire/ — Tupperware Brands Corporation celebrated the re-launch of its Chain of Confidence (COC) Facebook page (www.facebook.com/chainofconfidence) last night at New York's Highline Ballroom with the original American Idol winner, Multi-Platinum and Grammy Award–winning artist Kelly Clarkson.
The sold out private event drew nearly 500 guests, including celebrities Kelly Rutherford ("Gossip Girl"), Gabourey Sidibe ("Precious"), Alia Shawkat ("Arrested Development"), and musicians Ashanti and Deborah Cox among others. Read more
NEW YORK, May 26, 2011 /PRNewswire/ — THE YOUNG AND THE RESTLESS, daytime's # 1 drama series seen weekdays on CBS, is bringing Jabot, the fictional beauty brand featured on the show, to life and into the hands of consumers. With this deal, Jabot Cosmetics will become a full line of color cosmetics and skincare products that viewers can purchase on www.shopjabot.com, www.hsn.com and at Ulta retail locations.
The fictional Jabot Cosmetics Company made its first appearance on THE YOUNG AND THE RESTLESS 20 years ago and has been a central element in the storylines for many of the characters on the series, including the Abbott family, late founding father John (Jerry Douglas), and his children, Jack (Peter Bergman) and Ashley (Eileen Davidson). Read more
WILTON, Conn., May 26, 2011 /PRNewswire/ — Khloé Kardashian Odom (E!'s Keeping up with the Kardashians, Khloé and Lamar and Kourtney and Khloé Take Miami) is starting the summer bikini-season off right by announcing her participation in the 2011 "NIVEA Good-bye Cellulite, Hello Bikini! Challenge;" a four-week program that combines fitness, nutrition, style and skincare with NIVEA Good-bye Cellulite products. The reality starlet will use NIVEA's Good-bye Cellulite Fast Acting Serum and Advanced Good-bye Cellulite Gel-Cream to help visibly reduce the appearance of cellulite and help to increase overall bikini confidence.
Read more
NEW YORK, May 26, 2011 /PRNewswire/ — Fusion Brands Inc. in partnership with Sony Pictures, and CBS Consumer Products is excited to announce the 2011 launch of Jabot Cosmetics, one of the first fictional beauty brands to become available for purchase to consumers. Inspired by the beauty company portrayed on daytime TV's Emmy award-winning and #1 rated series "The Young and the Restless" Jabot is now a premium collection of color cosmetics, advanced scientific skincare and luxurious fragrances, formulated to give fans and women access to Hollywood's backstage beauty secrets.
Jabot Cosmetics will launch at the 2011 Daytime Emmy Awards in Las Vegas, NV on June 19, 2011. The face of the brand, and one of the most popular stars on the show, Tracey E. Bregman, who plays Lauren Fenmore, will debut the brand live on the red carpet. "When it comes to our makeup and skincare, I think every woman wants what I want…beautiful, glamorous colors and most importantly, to see visible results. Whether you are a television actress, a mom or a busy executive, I just know when women try Jabot products; they will fall in love with them," said Bregman. Read more
ST. LOUIS, May 26, 2011 /PRNewswire/ — Following its annual shareholders' meeting today at 11 a.m. Central Daylight Time, Diane M. Sullivan has assumed the role of President and Chief Executive Officer of Brown Shoe Company, Inc. (NYSE: BWS, www.brownshoe.com.)
Read more
NEW YORK, May 26, 2011 /PRNewswire-iReach/ — —SAVE-THE-DRESS, the New York City-based campaign to acquire the coveted white dress worn by Marilyn Monroe in 'The Seven Year Itch' has gained a powerful ally.  Andrew Hansford, Curator of the Estate of William Travilla and the leading expert on the legendary white dress, today endorsed and officially joined the campaign to keep the garment public and place it on permanent display in the city where it gained fame.
William Travilla, an Academy Award winner and one of Hollywood's most recognized and celebrated designers and costumers, created dresses for Monroe in eight of her biggest films. In late 1953, Travilla created one of the most iconic costumes of all time with the White cocktail dress Monroe wore in 'The Seven Year Itch.' Photographs of the dress rising up around Marilyn Monroe while standing atop a New York City subway vent have become synonymous with Monroe herself. Read more