Spanish company found new retailers on the European market and spread the joy and
optimism of its brands thanks to its presence on FIMI Valencia and Who's Next Prêt-à-porter
Paris fashion fairs last week
Spanish famous textile company Textiles Montecid enjoyed a successful start of 2012 thanks
to the presence of its three brands -Rosalita Mc Gee, Missing Johnny and Rosalita Senoritas- at
FIMI Valencia and Who's Next Prêt-à-porter Paris fashion fairs. Read more
Gala Cloths, http://www.galacloths.com, top provider of tablecloth linen and chair cover rentals for events and parties since 1991, has been selected to receive the prestigious WeddingWire "Bride's Choice Award" for 2012 for Rental Linens, ranking the company among the top five percent of wedding professionals in the WeddingWire community. Gala Cloths was selected based on its stellar reviews from past newlywed clients and has won the Bride's Choice Award for four consecutive years since the award's inception.
KVS Designs, now an LLC dba KVS Pasal, announces plan to expand its product line. "We are expanding our horizons and adding ever more great designs to our retail line," says Victoria Vacala, the owner of the company.
California-based online fashion store and ankle boots retailer, Make Me Chic, launches its winter clearance sale. Enjoy a 10% discount on all items with no minimum purchase. This promo is valid until January 31, 2012. Visit MakeMeChic.com now and start shopping while supplies last. Simply use the coupon code
Reputable supplier of fashionable wholesale jewelry CERIJewelry.com expands its product inventory by launching sparkling iPhone cases at competitive wholesale prices. Diamond cases for iPhones, Blackberry, and Samsung phones start at $6.50 and clients can select from a wide variety of styles such as animal prints, hearts, skulls, and rubber designs. CERIJewelry.com also offers the latest wholesale jewelry products for all jewelry store owners out there.
NEW YORK, Jan. 30, 2012 /PRNewswire/ – Shopbop.com, an established resource for casual and festive essentials, launches Workwear Boutique, a modern alternative to professional attire. The product mix is inspired by the need for versatile pieces that can be styled for work, and then restyled for a night out.
Within the Workwear Boutique, customers will be able to click their way through an edited selection of suiting, tailored separates, power dresses, shoes and accessories to put together an entire look, either shopping by outfit or by item. Read more
Beauty Samples and Expert Advice Delivered Monthly by the Ultimate Insiders
NEW YORK, Jan. 30, 2012 /PRNewswire/ – The premier beauty retailer, Beauty Bar, is collaborating with The Beauty Expert, Alluremagazine, to introduce Sample Society—a breakthrough in beauty sampling. A members-only subscription service, Sample Society delivers the most exclusive samples of hair-care, makeup, skin-care and fragrance products plus expert information each month.
As the number-one driver of discovery and purchase, sampling has solidified its position as the backbone of the 30-billion-dollar beauty industry. Product sampling has long been a marketing tool, with samples of all kinds reaching 70 million households each quarter.*  In fact, according to a national poll, 49 percent of women say sampling is the top purchase motivator when it comes to new beauty products.**  Beauty is the only industry to reinvent sampling and turn it into a paid service. Read more
NEW YORK, Jan. 30, 2012  /PRNewswire/ – H&M today announced the company's marketing plans for the David Beckham Bodywear collection including full disclosure around the impending Super Bowl ad featuring iconic superstar David Beckham.  The new spot, which marks Beckham's inauguration into Super Bowl advertising lore, is now available for preview atwww.YouTube.com/hm.
The seductive black and white commercial is a visual ode to David Beckham and the new bodywear collection.  Set to the song "Don't Let Me Be Misunderstood" by The Animals, the 30-second spot features images of Beckham modeling the collection and captures the energy, playfulness and style of the H&M brand.  The camera angles range from close-ups to 360 degree views of Beckham sporting various pieces from the new line including the briefs ($12.95) and trunks ($14.95).  The ad, which will air during the 2nd quarter of the Super Bowl, was shot in Hollywood earlier in the year. Read more
LOS ANGELES, Jan. 30, 2012 /PRNewswire/ – E! Entertainment Television Co-Founder Alan Mruvkahas partnered up with Beverly Hills Celebrity beauty guru and undisputed "Eyebrow King," Damone Roberts to launch The Look Bag.com (www.thelookbag.com) – the newest luxury beauty sample club. For only $10 a month, members of The Look Bag.com will receive five deluxe, re-sealable beauty samples that are specifically customized to fit their individual beauty needs. Each Look Bag is shipped out free to members within the first two weeks of every month, members also enjoy an additional discount off of every purchase of any full-sized beauty product on the site as well.
Alan Mruvka, who Co-Founded E! Entertainment Television is now focusing his efforts in the e-commerce beauty world and beauty programing for television and the Internet. "Damone Roberts is one of the top beauty artists in the world today. It was important for us and imperative for our members to know that they have a trusted expert behind what goes into each and every Look Bag," notes The Look Bag.com founder and Entertainment Entrepreneur, Alan Mruvka. "The Look Bag is the gold standard of monthly beauty programs." Damone Roberts states, "Clients come into my salons all the time asking me for beauty tips—not just eyebrow-related—and I felt that The Look Bag was the perfect way for me to reach out to a global clientele and help answer those beauty tips through customizing these beauty bags for them each month." Read more
Mango Madness Skin Care, a leader in paraben free skin care products, has introduced a new neck firming cream to tighten loose neck skin and reduce neck wrinkles.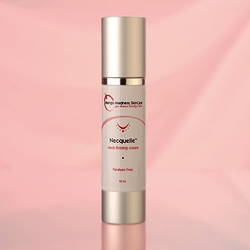 Read more