Queen's Diamond Jubilee Sparks Classic Fashion Renaissance In Designer Accessories
Just like the Queen of England, the "classic look" has reigned over fashion for decades. Getting a royal makeover this year are smart and stylish accessories, like MON MODE designer purse hooks.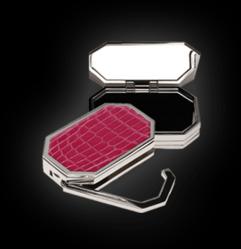 Mon Mode purse hooks are made from the highest grade materials available.
The quality of Mon Mode purse hooks are unparalleled in this sector. The materials, craftsmanship, design aesthetic and functionality really couldn't be better.
Beverly Hills, CA (PRWEB) June 11, 2012
This month marks a royal renaissance both in fashion and British culture. As Queen Elizabeth II celebrates her 60th year on the throne, Mon Mode purse hooks are at the forefront of a return to lady-like luxury and elegance.
Already featured on Kate Middleton's "List of Favorite Things", MON MODE purse hooks truly are proving to be the preferred accessory for the monarchy. Fitting well into any decade of lady-like fashion with their timeless and elegant designs, these luxury hangers (that also double as a make-up mirror) are the must-have accessory of the year.
MON MODE's are the most relevant handbag hooks on the market today. Contrary to other designs on the market, MON MODE's are specially engineered to be multi-functional AND aesthetically pleasing. Many are calling this the "Version 2.0″ of handbag hooks, revolutionizing the market and becoming the ultimate in lady like luxury. High quality materials are used in construction, finished with a selection of colored snake, lizard and crocodile skins and Swarovski crystals.
Marcy McKenna, innovator and host of HSN, says of MON MODE: "The quality is definitely unparalleled in this category. The finish, the craftsmanship, the design aesthetic and functionality really couldn't be better."
The answer to every lady's big bag dilemma are MON MODE handbag hooks. Perfect for the student carrying an iPad, as well as for the Queen whose handbag never leaves her side. From day to night, and from the '50s to today, MON MODE helps revolutionize the style renaissance.
Take it from Hollywood stylist, Jane Ross, who says she can't live without her MON MODE. "Just the idea of putting my purse on the dirty floor on a plane or in a hotel room," makes her quiver. "Finally!" she exclaims of MON MODE, "a handbag hanger for women who carry and RESPECT their designer handbags!"
Summoning the phrase "regal chic," the Queen's fashion is undeniably "classic," but it can never be called boring. A splendid display of Swarovski crystals adorned every outfit she wore this week, and a collection of graceful accessories helped produce the stunning final looks—which can only be chronicled as "superb sovereign styling."
The Queen's tasteful and sophisticated incorporation of lady like accessories is what elevates her style to a royal level. Completing her look with the addition of a unique hat, or a pair of white, long wrist gloves; no one can say the Queen doesn't know the difference between "shady" and "lady"!
Motivated by the Queen's complete look, designers this season are recreating lady-like fashion by resurrecting classic looks from decades past. Even the Olsen twins, who popularized Boho Chic with their hip clothing line, The Row, are focused on designing retro handbags with handles, in classic skins, for a lady-like twist in their designs. Trendsetters and fashionistas say The Row's new bags are GROOVY. You also see the return to lady-like fashions with Prada Spring Summer 2012 pleated dresses and classic '50s style handbags, again with handles. Big Swarovski Prada jewelry add even more "classic" to the entire look. And the ultimate head-to-toe finish can be accomplished with a beautiful skin MON MODE to elevate your purse (and your entire look to an even higher level of chic).
For more information about MON MODE designer handbag hangers, visit the website and networks listed below.
Facebook (Mon Mode: The Designer Handbag Accessory)
Twitter (@HookedOnMonMode)
Pinterest (http://pinterest.com/monmode/)
Blog (http://monmodeblog.tumblr.com)
Mon Mode
Laurie Cohen
9595 Wilshire Blvd. #801
Beverly Hills, CA 90212
http://www.monmodegethooked.com/
info(at)monmodegethooked(dot)com