ZestNow.com for Women 50 and Forward Profiles a Model Who is Over 60; She's a Role Model – a Spirited Beauty, an Entrepreneur and a New Bride-to-Be
Gray Hair and being past 50 are assets for Ford Model Cindy Joseph. ZestNow.com reports on the attractiveness and buying power of women over 50, the large Baby Boomer generation.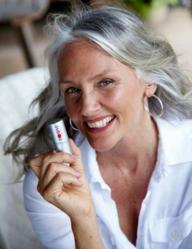 Cindy Joseph
"I realized that every cosmetics line is anti-age instead of pro-age. Who said age was bad? I say wear your age proudly.
New York, NY (PRWEB) June 17, 2012
ZestNow.com the site for women 50 and Forward reports that Cindy Joseph represents a new Baby Boomer optimism on beauty and makeup for women over 50.
Cindy Joseph became a model at 49. She's now over 60. Perhaps that means that women over 50 are being appreciated for both their attractiveness and their buying power. She says that the most important thing is that women are appreciating themselves over 50 now more than ever.
Modeling agencies often ask women to cut or dye their gray hair. But Cindy reports that Ford never asked her to cover her silver mane. From time to time a client would ask if her if she would. Most of them were companies who manufacture hair dye. She said "No way!" to all of them for 12 years. She did not want to cover her silver or lead women to feel they should feel obligated to either.
Then, last year she received an offer she could not refuse. She was in great need of funds to help get BOOM!, her new cosmetic line, going. She let them dye her hair blonde for a skin care campaign in Europe. It was a very tough decision for her because she had stuck to her guns for so long. Her fans and customers were very supportive, which was extremely helpful. Now she has her silver back and feels much more beautiful again.
She's currently working on her own makeup line. She said, "I realized that every cosmetics line is anti-age instead of pro-age. Who said age was bad? I say wear your age proudly. There is nothing to hide. It is time for women to value themselves at every age and appreciate the unique beauty that comes with every year of your life."
She warns that women can make makeup mistakes after 50. She points out that trying to cover wrinkles by wearing heavy foundation and powder is not attractive. Dark and colored eyeshadows can be a problem too. In general, less of everything is better she says. Dewy is much better than dry on older skin. Powder and most foundations only accentuate wrinkles. Striving for a fresh look and happy look is more flattering.
The name for her makeup line is BOOM! By Cindy Joseph. The name emphasizes Baby Boomers in new and exciting territory. She says she consider it the sound of the Pro-Age Revolution! BOOM!
A complete interview is featured on ZestNow.com ZestNow:
http://www.ZestNow.com the website for Women 50 and Forward covers Beauty, Relationships, Health, Money and Entertainment important to our audience. Articles include:
To Gray or Not to Gray – Always the Question
How to Do Makeup for Women Past 50 Part-III
12 Easy Tips to Update Your Wardrobe After 50
Dianne Morris, Editor ZestNow(at)gmail.com 917 514 9468
http://www.Facebook.com/ZestNow