Maggie May Colorful Swimwear Cover-ups Go From Beach To Cocktail Party With Style and Panache
Trending designer adds sophisticated and chic cover-ups to her Brasilia line of swimwear in time for unveiling at Salon Allure, Miami, July 21.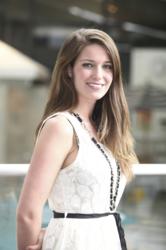 Twenty-six-year-old fashion designer makes a SPLASH with Brasilia 2013 at Miami's Salon Allure
My cover-ups can go from the beach to the cocktail party with ease and style.
Miami, FL (PRWEB) July 19, 2012
Maggie May, ahead of the crowd and on trend with her knitted bikini line, has created a brilliant cover-up line to coordinate beautifully with the latest Brasilia 2013 swimwear line which will be unveiled at Salon Allure, July 21-24, at the W Hotel, Miami, suite 528.
The Brasilia 2013 line of swimwear was created in a smattering of colors, combining tangerine, purple, salmon and seafoam against a backdrop of sophisticated black and charcoal grey. The cover-ups are created in a unique combination of both chiffon or silk charmeuse fabric with knitted trim, and all knitted pieces, coordinating seamlessly with the Brasilia 2013 line of bikinis.
The cover-ups include palazzo pants, made of chiffon with knitted waist bands, coordinating jackets/robes, all-knit shorts and short skirts, as well as a v-neck lace knit tunic which can easily be worn as a dress.
"I know how a woman wants to look," said 26-year-old designer Magdalena Trever. "My bikinis and cover-ups are designed to make a woman look sophisticated, classy and best dressed, whether its at the pool, or the cocktail party after."
Maggie May Swimwear and cover-up lines will be unveiled at Salon Allure, July 21-24, at Miami's W Hotel, suite 528.