Fashion Week features a twist this year. In a groundbreaking move, Digital Fashion Week is combining fashion and digital innovation to become the world's first live-streaming only fashion week.
Digital Fashion Week | Front Row Access, Real Time Shopping & Power to Influence Read more
New York, NY, July 11, 2012 –(PR.com)– With one-of-a-kind couture garments CITROLINA by Citra Gala's golden collection, brings out the goddess in any woman with her exotic embellished embroidery.
The plethora of patterns and striking colors is the true mark of perfection of this CITROLINA collection. Read more
NASHVILLE, Tenn., Jan. 6, 2012 /PRNewswire/ — Nordstrom, in partnership with the Nashville Symphony, will present the Nordstrom Symphony Fashion Show, featuring a performance by five-time GRAMMY® winner Carrie Underwood and an exclusive presentation of Oscar de la Renta's Pre-Fall 2012 collection on Tuesday, February 28. The event, emceed by radio and television personality Storme Warren, will take place from 6-10 pm at Schermerhorn Symphony Center in Nashville, with a cocktail reception before the show and dinner to follow.
This year marks Nordstrom's first time producing the fashion show since opening a store at The Mall at Green Hills in September of 2011, as well as Carrie Underwood's first performance at the Symphony Fashion Show. Guests will also have the opportunity to get a closer look at the featured fashions after the performance and fashion show at an exclusive boutique inside Schermerhorn Symphony Center. Read more
Christian Neuman and Virginia Ferreira present their most sensual collection to date for their fourth season at London Fashion Week. Lines of powerful feminine elements and voluptuous shapes, are strongly evident throughout a collection of sweeping long gowns, petit cocktail dresses and smart tailoring.  Inspiration hails from 1920′s silent Hollywood movie stars.
Lip curvatures and corset and harness shapes are refined by decorative pleating techniques and rococo elements. The effect equals sleek volume and sophisticated silhouettes. Pastel shades of yellow, magenta range, mint greens and lilacs prevail and prints are deconstructed, slicing through block colour sections that juxtapose the print elements. Fabrics are a mix of soft light silks blended with contrasting luxurious heavy silks and French embroidered tulle.  Signature leather pieces are also present in a more subtle way. Read more
NEW ORLEANS, Sept. 1, 2011 /PRNewswire/ — On Saturday, September 10, 2011 in partnership with Harrah's Casino New Orleans and Saks Fifth Avenue New Orleans, the Al Copeland Foundation (ACF) presents 'Hi-Speed Fashion', a night of the latest in modern men's and women's fashion, great food, great drinks, festivities and music by Red Bull's top New Orleans DJ and Grammy Award Winner DJ Spin, all to benefit the Al Copeland Foundation for local cancer research.
Attendees will experience a runway show by Saks Fifth Avenue New Orleans with hair and makeup styled by H2O Salon and Spa, amazing cuisine donated by Copeland's of New Orleans and Copeland's Cheesecake Bistro and a variety of specialty cocktails: "The Sevillian" featuring Crown Royal Black, "The Louisiana Margarita" featuring Sauza Hornitos Plata Tequila, and "The Skinny Girl Experience" introducing the new Skinny Girl Sangria. ACF Fashion Show sponsors include Harrah's Casino New Orleans, Saks Fifth Avenue New Orleans, H20 Salon and Spa, New Orleans Saints, Al Copeland Investments, Copeland's of New Orleans, Copeland's Cheesecake Bistro, First NBC, Glazer's Distributors, First Bank & Trust, Mr. & Mrs. Joseph Canizaro, Crescent Crown Distributing, Southern Eagle, Sysco, Fidelity Homestead Savings Bank, Tru Light Foundation, Al Schwarzenberg, LLC. Diamond & Jewelry Broker, Treaty Energy Corporation, Beam Global Wine & Spirits, Inc., Prestige Wine Imports, and Ms. Jennifer Copeland & Ms. Kasie Warner. Event activities include a feather hair extension bar, specialty iced coffee by PJ's Coffee, and so much more! Read more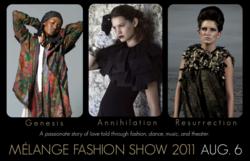 San Francisco, CA (PRWEB) July 31, 2011
Mélange Fashion Show 2011 unites local & international talent with big brands, Nicole Miller, Sephora & Gordon Biersch on August 6, 2011. Read more
Bridal Extravaganza of Atlanta's new "Be A Bride" Online Wedding Planning Site aims to match the needs of brides with talents of best wedding professionals. The next Bridal Extravaganza of Atlanta is on Sunday, August 14, 2011 at 200 Peachtree Special Events & Conference Center. The show is a unique and informative gathering of wedding professionals designed to help brides with everything they need to plan a wedding, from invitation through celebration.
Los Angeles, CA (PRWEB) July 02, 2011
Kay Celine, a top woman's clothing company, has just finished a fresh, fun, and flirty line for the Spring and Summer of 2012. The line, a combination of intriguing prints and smooth silks offers the woman on the go a wardrobe for all occasions.
Inspired by her many adventures abroad, Kay Kamran, designer and owner of Kay Celine, has created an effortlessly chic collection that translates naturally from day to night. This season offers elegant blouses, chiffon tunics, and fun cover-ups, providing women with all the essentials for Spring and Summer seasons. Read more