December 11, 2012 by admin · Comments Off
Artist Ran Hwang explains the meaning behind her installations
NEW YORK — Dec 10, 2012 / (http://www.myprgenie.com) – Livelymag.com, an online magazine published by LEECHEE LLC, announced that the publication featured an exclusive interview with Korean-born artist Ran Hwang, http://www.livelymag.com/ran-hwang/. The interview was published on Thursday December 6, 2012.
In the interview with Lively, the Brooklyn-based artist provides insight on the creation and meaning behind her artwork and how oriental philosophy plays a role in her process. Using fashion materials as various media for her pieces, Hwang mixes traditional and spiritual themes in building large installations. Her work involves repetitive manual effort, which the artist describes as time-consuming yet meditating. The message and theme behind her work consistently revolves around the practice of Zen and human spirituality. Read more
November 21, 2012 by admin · Comments Off
Designer Andrae Gonzalo engages fashion enthusiasts regardless of dress size or tax bracket 
NEW YORK, November 20, 2012 – Intent on concluding the Project Runway chapter of his life, designer & fashion philosopher, Andrae Gonzalo is launching The Andrae Conversation, a new, interactive forum & retail experience designed inspire & empower fashion enthusiasts. The site will host conversations about men & women's real fashion & design struggles while revealing the relevance fashion has within our culture. Playful discussions will result in a series of completely original, one-size-fits all accessories that get people talking in 2 distinct ways. Read more
August 23, 2012 by admin · Comments Off
September 11, 2012 Designer Arefeh Mansouri along with 5 other designers all selected out of hundreds of submissions from around the world will be showcasing their Spring 2013 Fashion Collections at EMERGE! For New York Fashion Week.
December 1, 2011 by admin · Comments Off
Anna Popovich is a London-based women's wear designer. Each of Anna Popovich's designs has a focus on luxury and attention to detail; each piece is 100% silk and draped by hand.
The A/W 11 12 Collection has been influenced by human muscle structure, creating and distorting second skins. Anna takes an organic approach to pattern cutting, creating multi-dimensional draping detail with a sculptural bent. Using single pieces of silk she covers parts of the body in a way that accentuates without necessarily revealing them. Read more
November 24, 2011 by admin · Comments Off
In 2010 Danish born Camilla Salgaard graduated from Birmingham Institute of Art and Design, from where she received her Degree in Fashion Design.
Camilla Salgaard loves to play around with volume and structure, and with an aim to dress women in contemporary garments and promote individuality, Camilla Salgaard creates powerful designs with a soul to suit the female shape. In her designs sharp and constructed meets soft and graceful, which creates a unique and eclectic aesthetic. Read more
November 22, 2011 by admin · Comments Off
Vancouver, WA — Nov 22, 2011 / (http://www.myprgenie.com) — The #1 plus size lifestyle magazine, Daily Venus Diva.com (DVD) is ringing in the holiday season in style. On November 23, 2011 DailyVenusDiva.com& IGIGI by Yuliya Raquel, www.igigi.com, will host "Twitter Talk with DVD." This month, IGIGI Founder, Lead Designer and Creative Director, Yuliya Raquel, will discuss plus size trends for the holidays and her new Holiday Collection, how to dress to flatter one's silhouette, accessories and more.
November 11, 2011 by admin · Comments Off
A video released by women's fashion designer Leon Max offers an artistic behind the scenes view of his London party, thrown to entertain guests and inaugurate the design studio at his Easton Neston estate. Attendees included London fashion crowd and the best of British toffery. The event was completed with a performance by Pixie Geldof.
November 9, 2011 by admin · Comments Off
The much-anticipated Jason Wu for Brizo™ Collection brings style and function to the bathroom
INDIANAPOLIS, Nov. 8, 2011 /PRNewswire/ — Since faucet brand Brizo® established a relationship with fashion designer Jason Wu in 2006, architects and designers have anxiously anticipated a collaborative collection between the two luxury brands. After many years in the making, the two brands are delighted to introduce theJason Wu for Brizo Collection, a stylish powder room suite that merges the signature styles of both brands in a line of products for the bathroom. The collection reinforces the position of the Brizo brand as fashion forward and innovative, and it marks the debut of Jason Wu into the world of interior design.
"When the Brizo brand was first partnered with Jason Wu, we set out to prove fashion can be expressed outside the runway, as it's also a personal expression of oneself in the home," said Brian Nobbe, director of the Brizo brand. "The Jason Wu for Brizo collection delivers a new level of luxury for the home bath and we are excited to see how consumers and design professionals react to the collection's unique juxtaposition of ultra modern clean lines and ornamentation." Read more
September 24, 2011 by admin · Comments Off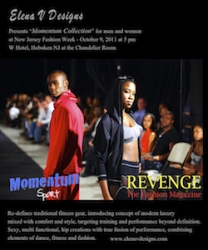 Hoboken, NJ, September 23, 2011 –(PR.com)– On October 9, 2011, Elena Vasilevsky, designer for Elena V Designs, will be showing two collections at this year's New Jersey Fashion Week Event.
Momentum for men and women, multifunctional and hip active wear collection, and Essentials for men and women. Modern day versatile silhouettes for day into the night lifestyle.
Read more
September 21, 2011 by admin · Comments Off
A native of Washington, D.C. now based in New York, up and coming fashion designer Eryka Becker will unveil her latest collection at Fashion Week 15th International Couture Collections in Washington, D.C. The fashion show will be held on Sunday, September 25, 2011 in the elegant Embassy of France located in the heart of our nation's capital.