New York, NY (PRWEB) November 07, 2011
StoryDesk, the iPad sales and presentation platform for enterprise, has been selected by HUGO BOSS to provide an interactive, mobile sales app for the fashion house's sales team.
StoryDesk, based in New York, is a cloud-based tablet publishing platform for enterprise. StoryDesk enables businesses to move beyond traditional, static sales and presentation media like print catalogs and PowerPoint. The company's flagship service, CatalogApp™, lets sales and marketing professionals dynamically showcase product lines and take orders directly from the iPad. More than 500 companies in industries ranging from pharmaceuticals to financial services are now using StoryDesk to sell more, faster. Read more
First mobile app helps women love their bodies and fight unrealistic standards of beauty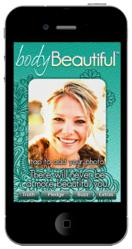 Los Angeles, CA (PRWEB) September 15, 2011
Body Beautiful, the first iPhone app designed to promote positive body image among women and girls, is now available in the App Store. Read more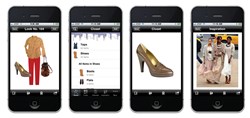 Westfield, NJ (PRWEB) August 16, 2011
Left Brain/Right Brain LLC announces the 4.0 release of Stylebook, their popular fashion closet app for the iPhone and iPod Touch. The app provides a number of tools to help shoppers get the most out of their wardrobe—including a closet to catalog pictures of their own clothes, customizable categories, a calendar to plan what to wear, a worn history log to track how often clothes are worn, a style inspirations library and an outfit creator to let users build outfits and mood boards. Read more
SAN FRANCISCO, July 21, 2011 /PRNewswire/ — Sephora North America is proud to announce the Sephora App for iPad is now available on the App Store. The Sephora App offers a fully integrated digital beauty experience that brings diverse social feeds into one fun, magazine-like format.

The Sephora App includes up-to-the-minute beauty news and information from Sephora's Facebook and Twitter feeds, its BeautyTalk community, Beauty And The Blog website and Sephora's newly revamped YouTube Channel, providing the latest beauty trends and advice. The sophisticated and information-rich layout updates each time the app is accessed and can be tailored to only show the content individual users want for a truly personal experience. Read more
(PRWEB) May 21, 2011 AdoreStudio Ltd has just released a new free application for Apple devices, such as iPhone, iPod and iPad 2. The utility not only records video but also immediately detects its recording time, location and track, then it automatically uploads the clip to http://www.VeryMinute.com. At this video sharing service, each clip is embedded by a media player with geolocation and path displaying functions.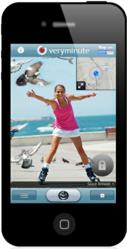 At http://www.VeryMinute.com the program users can share their clips, assigning public status to them, or just store their recordings with private status for personal use. At the same time visitors of the site can watch clips, selecting them, for example, by their recording location and time, or by text tags which the video owner set. Thus a search query may look like "London, Trafalgar Square, May 22nd, 13:00 – 15:00". Read more
_SAN FRANCISCO, May 19, 2011 /PRNewswire-iReach/ — Fashion Nomad Iphone App is a guide to fashion destinations for travelling fashionistas. It is a concise list of indie boutiques, designer flagships, vintage stores and top department stores in the major fashion cities such as New York, Los Angeles, London, Paris, Milan, Shanghai, San Francisco and Sydney – all organized by area so you can be 'in the know' when visiting a new city. Tap 'the girl' icon to get GPS distance and directions directly to the latest fashion boutiques and namesake designer flagships. Link to Fashion Nomad App: http://itunes.apple.com/us/app/fashionomad/id366967330?mt=8
(Photo: http://photos.prnewswire.com/prnh/20110519/CG05339) Read more
Lancome has launched a Facebook app "HouseOfColor" that enables fans to sample a new line of eye makeup with your own photos.
The app includes a series of tutorial videos, commercials and a virtual makeup tool called Magic Mirror which is particularly special for users. You may log in Facebook and visit http://apps.facebook.com/houseofcolor to have a try. Read more