NEW YORK, May 26, 2011 /PRNewswire/ — Fusion Brands Inc. in partnership with Sony Pictures, and CBS Consumer Products is excited to announce the 2011 launch of Jabot Cosmetics, one of the first fictional beauty brands to become available for purchase to consumers. Inspired by the beauty company portrayed on daytime TV's Emmy award-winning and #1 rated series "The Young and the Restless" Jabot is now a premium collection of color cosmetics, advanced scientific skincare and luxurious fragrances, formulated to give fans and women access to Hollywood's backstage beauty secrets.
Jabot Cosmetics will launch at the 2011 Daytime Emmy Awards in Las Vegas, NV on June 19, 2011. The face of the brand, and one of the most popular stars on the show, Tracey E. Bregman, who plays Lauren Fenmore, will debut the brand live on the red carpet. "When it comes to our makeup and skincare, I think every woman wants what I want…beautiful, glamorous colors and most importantly, to see visible results. Whether you are a television actress, a mom or a busy executive, I just know when women try Jabot products; they will fall in love with them," said Bregman. Read more
NEW YORK, May 20, 2011 /PRNewswire/ — The beauty industry celebrated its finest today, as Cosmetic Executive Women (CEW) recognized the most innovative beauty products of the year at the 17th Annual CEW Beauty Awards.
The CEW Beauty Awards is the only awards program where the winners are determined exclusively by more than 4,000 beauty insiders and professionals working in the industry. The Awards signify the industry's highest recognition for manufacturers and brands, as well as a trusted guide to the most innovative new products for consumers. Read more
Los Angeles, CA (May 19, 2011) /PRNewswire/ — The Annenberg Space for Photography is offering additional programming to enrich the BEAUTY CULTURE exhibit including digital films, which expand on the themes of the exhibit; the BEAUTY CULTURE Digital Salon, where guests can experiment with virtual makeovers; and the IRIS Nights lecture series, presenting top fashion, beauty and pop culture photographers and editors.
BEAUTY CULTURE is a photographic exploration of how feminine beauty is defined, challenged and revered in modern society. The exhibit features works from iconic photographers such as Albert Watson, Bert Stern, Herb Ritts, Man Ray, Jean-Paul Goude, ORLAN, Guy Bourdin, Horst, Melvin Sokolsky, Ellen von Unwerth, Lillian Bassman, Matthew Rolston, Philippe Halsman, Lauren Greenfield, Susan Anderson, Tyen and Carrie May Weems. BEAUTY CULTURE encourages a social dialogue about the allure and mystique of the pursuit of female beauty, as well as the cult-like glorification and multi-billion dollar industries that surround it. Read more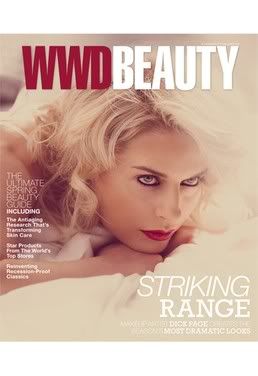 LOS ANGELES, March 18/ — Women's Wear Daily, the leading professional journal for the fashion, beauty, and retail industries, selected Los Angeles-based Beauty Collection as one of 14 global best-sellers in the just released issue of its quarterly WWD Beauty Biz magazine. Beauty Collection was one of six U.S. retailers to make the list, and the only retailer in the state of California to be featured.
Women's Wear Daily's WWD Beauty Biz Spring issue focuses on the major products and trends of the season. This year, WWD challenged its writers around the world to seek out the best and the brightest businesses operating in the beauty industry. They found that retailers and marketers like Beauty Collection have done more than just give lip service to the concept of unique and compelling propositions. Across all categories, groundbreaking innovation and inspired design have resulted in products that trigger both need and want. Read more
Daisy Marc Jacobs & David and Victoria Beckham Fragrances Named Award Winners
NEW YORK, May 21 /PRNewswire/ — Coty Inc., a leader in global beauty and the world's largest fragrance company, took home five prestigious fragrance industry awards, including Fragrance of the Year Women's Luxe and Men's and Women's Popular Appeal, at The Fragrance Foundation's 36th annual FiFi Awards held on May 20th.
Fragrance winners for Coty included:
– Daisy Marc Jacobs, Fragrance of the Year — Women's Luxe
– David and Victoria Beckham Intimately Beckham Women, Fragrance of the Year – Women's Popular Appeal
– David and Victoria Beckham Intimately Beckham Men, Fragrance of the Year — Men's Popular Appeal
– Daisy Marc Jacobs, Best Packaging — Women's Prestige
– David and Victoria Beckham Intimately Beckham Men, Best
Packaging — Men's Popular Appeal Read more