San Francisco, CA (Vocus/PRWEB) May 25, 2011
Wholesale Fashion Shoes has announced that they are now selling clutches at affordable prices. They have been busy adding many new styles of shoes to their already large line of products and now they are taking the store to a new level by introducing a new set of small purses, party purses and wallets for girls.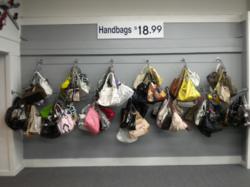 The clutches come in two sizes, regular and small, and feature several exquisite color options. Read more
Morristown, NJ (PRWEB) May 25, 2011
Situated in the heart of Morristown, Gray Lily's modern decor makes one feel as though they have stepped out of Morristown and into a Soho boutique in a matter of seconds. The boutique's exposed brick & stone wall, and ceiling pipes also add to the feel of one nestled in a shopping district of New York City. Handbags and fashion jewelry situated throughout look more like decorations than merchandise. The sounds of ooh's an ah's are heard of customers as they make their way through the store admiring the decor as well as Gray Lily designs.
Jasmine Hapgood, the woman behind Gray Lily, said, "The name comes from the rare and endangered lily flower "lilium grayi," better known as "Gray's Lily," as well as after 19th century botanist Asa Gray. "I wanted to offer a collection of handbags that is also rare – that is a collection that has something for any and every woman, no matter her taste, no matter her style," she said. Read more
CHENGDU, China, May 23, 2011 /PRNewswire-Asia/ — Milanoo.com offers expedited processing and shipping on all special occasion and formal dresses ordered through the company's new "Warehouse" section. Milanoo.com's new addition caters to customers who need their orders processed and shipped within a five day window.
Executives for Milanoo.com have recently announced the company's expansion by way of a brand new "Warehouse" section on its website. The "Warehouse" (http://www.milanoo.com/wholesale-Warehouse-c1463 ) features formal and special occasion dresses that can be processed and sent to the shipping companies within a five day time frame. This expedited processing platform is tailored specifically to meet the needs of clients that require their purchases to be delivered more quickly than items they normally purchase from Milanoo.com and those who can order directly off the rack without any special customizations being needed. Read more
Online wholesale handbags distributor, CERIWholesale.com has once again updated its wholesale handbags collection for the hot summer season. Constantly updating their wholesale handbags selection on a weekly basis, CERIWholesale.com offers the hippest and hottest wholesale handbags in any given season.
City of Industry, CA (PRWEB) June 12, 2008 — Saying that a woman needs only one carry-all handbag is like saying pigs will eventually fly one day. Yes, it is without a doubt, impossible. Whether taking a stroll to the park, going to the groceries or having a night out with friends, it is a dire need for women to have the perfect handbag to match any outfit on any given occasion. This phenomenon explains why the wholesale handbags business continues to thrive despite any slump in the economy.
Read more