August 17, 2011 by admin · Comments Off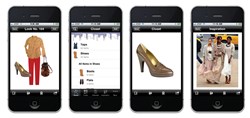 Westfield, NJ (PRWEB) August 16, 2011
Left Brain/Right Brain LLC announces the 4.0 release of Stylebook, their popular fashion closet app for the iPhone and iPod Touch. The app provides a number of tools to help shoppers get the most out of their wardrobe—including a closet to catalog pictures of their own clothes, customizable categories, a calendar to plan what to wear, a worn history log to track how often clothes are worn, a style inspirations library and an outfit creator to let users build outfits and mood boards. Read more
June 26, 2011 by admin · Comments Off
SHENZHEN, China, June 25, 2011 /PRNewswire-Asia/ — Shenzhen Wuzhou Changlian Trading, a trading company that specially produces iPhone 4 covers, is pleased to announce that all luxury edition cell phone cases will be sold at a half market price until the end of June, new models that keep to the trend are continuing to be introduced.
After the cooperation with local factory of Star Cell Phone Accessory, two partners began to accumulate information about new models with fashionable design and superior quality material with low price but still useful functions. They finally introduced luxury bling edition. Some case designs of this model are quite popular in fashion shows, screenings and all kinds of parties, auctions and many important occasions. They are made of transparent, crystal rhinestones and A-class diamonds, and hand made in the last process. No matter what occasion the phone users attend, informal or formal, the case will help to decorate the dressing of men or women. The company suggests a simple stripe case for official meetings or balls and bright flower cases for club parties. Read more
June 7, 2011 by admin · Comments Off
New York, NY (PRWEB) June 07, 2011
Available now, 'StyleCred' allows users to create and share looks with friends and earn $30/£20/€20 store credit each time a friend new to THE OUTNET shops.
THE OUTNET's app comes 7 months after the most fashionable fashion outlet launched its mobile-enabled website to provide customers with the opportunity to shop its edited selection of designer fashion at great value from any device. Read more