(PRWEB) June 29, 2011
When given the choice, consumers are more likely to enjoy self-created pieces that they can truly call their own. Jeans, bicycles, shoes, books, handbags, sport shoes, iPhone covers and even beer bottles can be personalized. It's one of the main consumer trends that is affecting how we shop.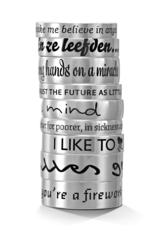 Every ring has its story
While rings in itself are extremely personal, getting your ring engraved the way you want to was still too difficult. The new website enables people to create just about any ring they want: engagement and wedding rings, rings with a personal motto or spiritual message, rings with baby names or rings to remember someone by. Read more
Tungsten World to introduce new men's and women's styles from their Tungsten Forever™ line of tungsten rings and tungsten wedding bands just in time for the start of the wedding season, and celebrates the 4th of July with tungsten rings made in America.
LarsonJewelers.com, the leading online retailer men's wedding bands, is proud to announce the addition of new tungsten carbon fiber rings, black ceramic rings, black tungsten rings and extra wide tungsten wedding bands to their line.
Due to the popularity of tungsten carbide rings with carbon fiber inlays, also known as tungsten carbon rings, LarsonJewelers.com has added a blue and black carbon fiber style as well as a green and black style. "Men are drawn to the unique look of tungsten carbide with carbon fiber for the durability of tungsten and the cool high tech look of carbon fiber. The addition of these new color combinations gives customers the largest selection to choose from in America." says Jonathan Larson, founder of Larson Jewelers.
Read more