LEICESTER, England, January 24, 2012 /PRNewswire/ –
British brand Next have put their best fashion foot forward with their hottest range of SS12 shoes. The latest additions to The Shoe Room range from colour block courts to faux animal print boots as well as glitzy sandals which can be delivered to you the very next day if ordered before 9pm.*
Key pieces from the women's shoe collection include heels, stilettos, boots as well as ballet pumps which follow the must-have trends of the season; geometric shapes, ethnic inspired prints, retro couture and bold splashes of colour. What's more, dozens of must-have ladies wedges have joined the collection ready for the summer – a footwear fashion essential for those holidays. Read more
SEATTLE, July 26, 2011 /PRNewswire/ — See Kai Run, popular manufacturer of the perfect first shoe, is launching its new big kid line, Kai, with its Fall/Winter Collection in August. Kai continues on where See Kai Run leaves off with sizes to fit post-toddler to school-aged kids 2 to 6 years old.
"We want kids to grow up with See Kai Run," says founder Cause Haun. "Since 2004, our customers have told us over and over again that they want the same See Kai Run styling they love in larger sizes. We're so thrilled that the wait is finally over and the new larger sizes have arrived!" Read more
Due to the success of the first Soludos x Opening Ceremony collaboration earlier this summer, the espadrille label and the cutting-edge retailer have teamed up again to bring customers new exclusive styles for the season.
Opening Ceremony, which has been a great supporter of Soludos since its launch last year, is putting its own edgy spin on the classic, colorful collection with out-of-the-box, exclusive designs and fabrications including bright ikats, fun florals, and chambray linens. With built-in comfort and specially added design details, it is sure to be the most coveted shoe for summer – whether at the beach, strolling the city, and everything in between. The Soludos x Opening Ceremony shoes retail for $35 each and are available at the retailer's top locations in NYC, Los Angeles, Japan, and online now at  http://www.openingceremony.us/ocsearch.asp?keyword=soludos. Read more
To celebrate the nation's Independence Day, online depot MakeMeChic.com is offering a 20% discount on all its fashionable items. These include pairs and pairs of ankle boots, slingback heels, platform pumps, and more women's shoes. Additionally, women's apparel including swimsuits, lingerie, and costumes are at discounted prices. Just enter the promo code "4JULY20" to avail of this promotion. Offer stands from July 1st to 15th.
OnlineShoes.com Giving Away Two Pairs of VIP Passes to Seattle-Area Stylist as for 'Haute Summer Night: Fashion on the Boardwalk,' Friday, June 24, 7:00 P.M. at SODO Commerce Building
SEATTLE, June 16, 2011 /PRNewswire/ — Seattle-based http://www.onlineshoes.com [OnlineShoes.com], the world's first online shoe retailer, is excited to be joining forces with Fashion Network-Seattle for an unforgettable evening of fun and fashion in Seattle, 'Haute Summer Night: Fashion on the Boardwalk.' A portion of the proceeds will benefit the local non-profit and youth empowerment organization 'Sew Beautiful.' Read more
TOPEKA, Kan., June 9, 2011 /PRNewswire/ — Payless is heating up summertime style with the debut of its Summer Collection featuring fun, affordable footwear and accessory style solutions stressing the latest trends. Starting at under $10, shoppers can snatch up the season's hottest styles including platform wedges, gladiator sandals, espadrille flats, embellished sandals, envelope clutches, satchel totes, statement jewelry, finishing-touch beauty items and a variety of sunglasses and sun hats perfect for the warm weather season.
(Logo:  http://photos.prnewswire.com/prnh/20060627/CGTU040LOGO-b) Read more
San Francisco, CA (PRWEB) June 06, 2011
LUV Footwear launches at FFANY in New York.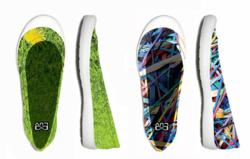 Girls of all ages love shoes, which is exactly why LUV Footwear creates lovable footwear and accessories. Utilizing their shoes as a canvas for creativity, LUV's signature product is a modern ballerina style flat. Designed with an injected mold outsole and Lycra top these comfy, lightweight and adorable shoes feature gorgeous graphics and lifelike photographs thanks to the sublimation process. This creative printing style allows for exact reproduction of digital art and photos onto synthetic fabrics and offers limitless possibilities when applying artwork to wearable LUV products. Read more
Henderson, NV (PRWEB) June 02, 2011
Remember the 80's—the decade of neon, shoulder pads, and micro-minis? Remember when Members Only was a jacket, not an online shopping club—and legwarmers were a girl's favorite fashion staple thanks to a little movie called Flashdance? The 80's were totally awesome and so were the KangaROOS sneakers we wore—you remember…the ones with the pockets where you could stash your key or money while you were working out at the gym or hanging with your friends. Tubular, right?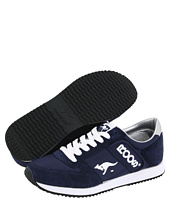 Well, Zappos.com has some great news for all of you adults who crave a little flash from your past. The KangaROOS brand and its popular throwback-style sneakers—in all their colorful glory—are now being sold online exclusively at Zappos.com. Read more
LONDON, June 2, 2011 /PRNewswire/ — New Look have picked up the winning award for Best Shoes at the Lorraine High Street Fashion Award, 2011. With references to early days of BIBA, the awards are a celebration of the best of the British High Street, with a competition that included Office, Kurt Geiger, Miss Selfridge and Aldo.
The scoop for New Look is testament to the intelligent way they interpret cat walk trends and transfer them to the high street market; a distinguishable trademark of the British High Street and a mark of New Look's innovative design team. Read more
SKELMERSDALE, England, May 27, 2011 /PRNewswire/ — Hotter Comfort Concept Shoes decide to share their five decades of specialist shoe making knowledge by creating a new 'how to' guide to healthy happy feet.
As part of efforts to help keep today's 'on-the-go' society on their feet, the experts at Hotter shoes have combined their in-depth knowledge of footwear design and manufacture with foot health advice to reveal top secrets to make happy feet, including: Read more