October 1, 2011 by admin · Comments Off
Colorado yoga clothing company be present, Inc helps support 501c3 Africa Yoga Project whose mission is to help empower impoverished communities in East Africa through yoga.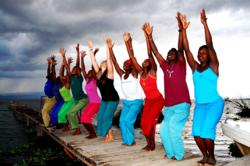 Paige Elenson (center), co-founder of Africa Yoga Project, poses with Baptiste-trained yoga instructors in East Africa Read more
September 2, 2011 by admin · Comments Off
Golden Globe nominated pregnant January Jones (Mad Men) was reportedly spotted heading to yoga class in Los Angeles and Silver Lake (California) recently.
Soon-to-be first time mom Alyssa Milano (Charmed) was reportedly seen going to yoga class in Calabasas (California) and Los Angeles sometime back. Read more
May 20, 2011 by admin · Comments Off
Seattle, WA (PRWEB) May 20, 2011
Asana Green, online purveyor of eco-friendly clothing and accessories
for active men and women, celebrates their website's one-year
anniversary by continuing to add brands that are harmonious with their
philosophy of bringing health and peace to the body, the mind, and the
planet. In addition, the Seattle-based company is involved in a variety
of environmentally and socially conscious initiatives to help make a
positive impact on the community and the world.